Whether it's made of metal or wood, canopy beds can cost a big-chuck-of-change! But who can rest it's dreamy appearance?! Which is why I took a different approach to get the same look for less, a lot less!
Pottery Barn's Antonia Canopy Bed- $1,300...
CHC's Canopy Bed- $55...
Here's how...
...We simply attached window curtain rods to the ceiling on all-four-sides and hung a curtain panel from each side of the rods (eight curtains total). I wanted the curtains to puddled on the floor a bit to accomplish a look that was billowy and romantic. Then I just used a piece of natural jute to tie the curtains at the corners (they could be left hanging loose as well).
Note: Since it's difficult to find long curtains in stores, I ordered these online from Target, and the rods are from Wal-Mart.)
Plus…
What's better than a canopy bed? ...A canopy bed with 'all-white' bedding! It just looks so fresh, inviting and elegant! Take a look...
Pottery Barn's Ruched Duvet Cover- $200...
Maybe mine doesn't compare to Pottery Barn's, but just wait till I get a white bed-shirt, shams and throw pillows...just look at the difference a white comforter makes...
...and it cost me zero dollars! ...It belonged to my great-grandmother! I l.o.v.e vintage linens!
Target's Heirloom Comforter Set from their Simply Shabby Chic line- $100...
...This is the bedding we are using in our oldest (two-and-a-half-year-old, Angelia) daughter's room.
...She turned a hunting cabin into a romantic Victorian cottage! I absolutely LOVE what she did with it!
Note: Bed and bedding prices reflect queen sizes.
{This post was shared on All Thing Heart and Home, A Beach Cottage, My Backyard Eden, Savvy Southern Style, Someday Crafts, Chic on a Shoestring Decorating, Creation Corner, Finding Fabulous, Freckled Laundry, and My Romantic Home.}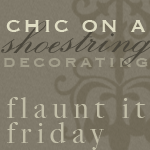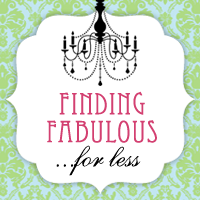 Thank you so much for visiting CHC! I love your sweet comments, and read all of them! Please become a Follower and a fan on facebook…